Diana's Desserts - www.dianasdesserts.com
See more recipes in
Fruit Desserts
Rhubarb Sabayon with Strawberries
in Diana's Recipe Book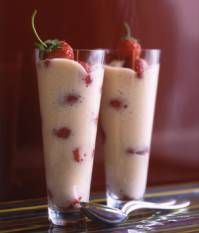 Average Rating:
(total ratings: 3)
[Read reviews]
[Post a review]
Servings: 6
Comments:
Rhubarb, which looks like a pink celery stalk, is botanically a vegetable, but it is used as a fruit, largely in pies and sauces. (In some areas, it is referred to as "pie plant.") The ancient Chinese cultivated the plant for its roots, which reputedly have medicinal properties, and it didn't gain acceptance as a food in the United States until the late 1700s.

The roots and leaves aren't eaten; indeed, the leaves are highly poisonous. At one time, the toxicity was attributed to their exceedingly high levels of oxalic acid, a substance that can interfere with iron and calcium absorption. However, the exact source of the leaf toxin has yet to be determined, since rhubarb stalks also contain significant amounts of oxalic acid (as do a few other foods, such as spinach).

Rhubarb stalks are extremely tart and they require sweetening to make them appetizing. This can increase their Calorie content considerably. For example, a typical recipe for rhubarb pie calls for 4 cups of diced rhubarb to which 1 1/4 cups of sugar are added. This converts 104 calories' worth of rhubarb to more than 1,000 calories. An alternative to this is to sweeten rhubarb with other, sweeter fruits, such as apples.

Rhubard Varieties

Rhubarb comes in two main varieties: hothouse-grown (pink or light red stalks, with yellow leaves) and field-grown (dark red stalks, with green leaves). The hothouse variety has a somewhat milder flavor and is less stringy.

Field-grown rhubarb appears in the supermarkets from April through June or July. Hothouse rhubarb, which is cultivated in California, Oregon, and Michigan, is mainly harvested from January through June. Rhubarb is also available frozen.
Ingredients:

1 cup chopped fresh rhubarb stalks (2 large ribs)
1/2 cup granulated sugar
1 cup orange Muscat wine such as Essensia
1 quart fresh strawberries, trimmed and quartered
2 large eggs

Special equipment: an instant-read thermometer
Instructions:
Bring rhubarb, sugar, and wine to a simmer in a small heavy saucepan, stirring until sugar is dissolved, then simmer, uncovered, until rhubarb is tender and begins to fall apart, about 5 minutes. Purée in a blender until smooth (use caution when blending hot liquids).

Divide strawberries among 6 stemmed glasses.

Beat eggs in a large deep metal bowl with a handheld electric mixer at medium-high speed 1 minute, then add hot rhubarb purée in a stream, beating constantly. Put bowl over a saucepan of simmering water and beat until mixture is tripled in volume, very thick, and registers 160°F (71°C) on thermometer, about 6 minutes. Remove from heat and ladle sabayon over strawberries. Serve immediately.

Note:
Rhubarb purée can be made 2 hours ahead and kept at room temperature. Reheat before adding to eggs

Makes 6 servings.
Source: Gourmet Magazine April 2004
Date: May 13, 2004
Reviews
Reviewer:
Mesee
Rating:
Review:
....Too good for words.
Reviewer:
Alison
Rating:
Review:
The taste was super yummy, but for some reason mine didn't "fluff" and triple in volume - did everything right, but will try again
Reviewer:
ruyu
Rating:
Review:
Hi Diana, what is rhubarb?