Diana's Desserts - www.dianasdesserts.com
See more recipes in
Cakes and Tortes
Classic Butter Cake
in Diana's Recipe Book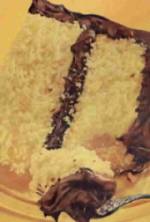 Average Rating:
(total ratings: 11)
[Read reviews]
[Post a review]
Servings: Makes a (9-inch) layer cake
Comments:
This will be the recipe you'll get out to use for birthdays and other special occasions. A classic 2-layer butter cake filled and frosted with a creamy Chocolate Frosting. Always a winner at children's birthday parties. This is a keeper, so tuck it away in your recipe book.
Ingredients:

3 cups all-purpose flour
1 tablespoon baking powder
1/4 teaspoon salt
1/2 pound (2 sticks/1 cup/8 oz/226 gm) unsalted butter, at room temperature
2 cups granulated sugar
4 large eggs, lightly beaten, at room temperature
1 cup whole milk, at room temperature
1 teaspoon vanilla extract

Chocolate Frosting (see recipe below)
Instructions:
1. Position the rack in the lower third of the oven and preheat to 350°F (180°C). Line the bottoms of two 9 x 2-inch round cake pans with parchment or wax paper.

2. Sift the flour, baking powder, and salt onto a piece of wax paper; set aside.

3. In the bowl of a heavy-duty mixer fitted with the paddle blade, beat the butter on medium speed until it is lighter in color; about 45 seconds. Add the sugar in a steady stream, then stop the machine and scrape down the bowl. Resume beating, stopping occasionally to scrape down the sides of the bowl, until the mixture is very light in color and texture, 4 to 5 minutes.

4. Gradually pour in the eggs, about a tablespoon at a time. (If the mixture looks curdled, stop adding the eggs, increase the speed to high, and beat until it looks smooth and shiny. Return the speed to medium, and add the remaining eggs.) Continue beating until the mixture is ivory-colored. The entire process of adding and beating the eggs should take 3 to 4 minutes.

5. Reduce the mixture speed to low. Add the flour mixture in four additions, alternating with three additions of the milk. After each addition, beat until smooth and scrape down the sides of the bowl. Beat in the vanilla with the final addition of milk. Spread the batter evenly in the prepared pans.

6. Bake until the tops spring back when the cakes are lightly pressed in the centres and a toothpick inserted in the centres comes out clean, about 25 minutes.

7. Transfer the layers to wire cooling racks and cool for about 10 minutes. Invert onto the racks or plates and remove the pans. Peel off the paper liners and place them back on the layers, sticky sides up. Invert onto wire racks, right side up, and cool completely on the wax paper. (The cake can be baked 1 day ahead, cooled, and stored, wrapped tightly in plastic wrap. Or freeze, overwrapped with foil, for up to 2 weeks.)

8. Fill and frost layers, top and sides with Chocolate Frosting.

Chocolate Frosting

Ingredients
4 oz. bittersweet chocolate, finely chopped
2 oz. unsweetened chocolate, finely chopped
16 tbsp. (2 sticks/1 cup/8 oz/226 gm)) unsalted butter, at room temperature
2 cups confectioners' sugar, sifted
3 tbsp. light corn syrup
1 tsp. vanilla extract
Pinch of salt

Instructions
To make the frosting, in the top pan of a double boiler, combine the bittersweet and unsweetened chocolates. Set the pan over but not touching barely simmering water in the bottom pan and stir until melted. Let cool slightly. In a large bowl, using an electric mixer, beat the butter and confectioners' sugar on medium speed until fluffy. Beat in the corn syrup, vanilla and salt. While beating, gradually add the chocolate and beat until smooth.

Date: April 30, 2004
Reviews
Reviewer:
nafesa
Rating:
Review:
delicious. everyone loved it
Reviewer:
Garmen
Rating:
Review:
I tried this morning with half ingredients and with chestnut on top. It's delicious.
Reviewer:
martha
Rating:
Review:
somehow the sugar didn't melt but all in all the texture turned out very nicely - soft and moist.
Reviewer:
alley
Rating:
Reviewer:
Julia
Rating:
Reviewer:
Magnolia
Rating:
Review:
The cake was so delicious with a layer of frosting.
Reviewer:
Katherine
Rating:
Review:
I am baking the cake now. 25 minutes for baking seemed far too short. Mine has been in oven for 35 minutes now, not even close to done yet. 45-50 minutes. I hope it will turn out good for my girl's birthday cake. I give three stars for now and will update after the occasion.
Reviewer:
charlene
Rating:
Review:
The sugar needs a lot more mixing to ensure it is fully mixed, mine takes around 20 minutes or so at high speed. The cake itself tastes lovely but I would add mixed essence to it instead of vanilla, gives it a much better taste. Also I did not have any whole milk so I used skimmed with a tablespoon of butter and a tablespoon of coffee creamer. Came out great with blue frosting instead of chocolate.
Reviewer:
Alia
Rating:
Review:
Great! Moist and rich.. a definite keeper! I made it in two 9" pans and the baking time was perfect, 25 minutes. I used chocolate filling and frosting, and it looked like the picture exactly.
Reviewer:
Kelly
Rating:
Review:
Cake is moist and delicious! It is even better if you add vanilla beans to it.
Reviewer:
diana farag
Rating:
Review:
What a delicious cake. Thank you ever so much for this recipe.