Diana's Desserts - www.dianasdesserts.com
See more recipes in
Jams - Jellies - Preserves - Spreads
Homemade Cream Cheese
in Diana's Recipe Book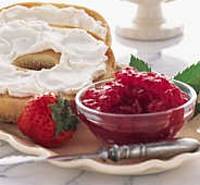 Average Rating:
(total ratings: 16)
[Read reviews]
[Post a review]
Servings: Makes 2 cups
Comments:
Try this fresh homemade cream cheese on a toasted bagel, or use it to make a cheese filling for crepes or blintzes. There are numerous uses for a freshly homemade delicious cream cheese such as this.
Ingredients:

2 quarts milk (do not use low-fat or nonfat)
1/4 cup buttermilk

Instructions:
Heat milk in heavy large saucepan over low heat until lukewarm (about 90°F. to 100°F.). Pour milk into large bowl. Stir in buttermilk. Cover with kitchen towel. Let stand at room temperature until mixture has formed a soft curd that resembles yogurt, about 24 hours.

Line large colander with clean muslin cloth. Set colander into sink. Pour in milk mixture and let drain 10 minutes. Fold cloth over curd to cover. Set colander on rack in deep bowl. Enclose bowl and colander in large plastic bag. Refrigerate until thick cheese forms, draining off liquid after 8 hours, about 24 hours. Transfer cheese to small container. Cover and store in refrigerator up to 4 days.

Makes 2 cups.

Source: Bon Appétit, December 1992
Date: January 26, 2004
Reviews
Reviewer:
Mindy
Rating:
Review:
Too bad Jolenea cannot spell. My grandmother used to make a cheese called kez -sounds very similar to this. I am going to try it
Reviewer:
Carrie
Rating:
Review:
I like this recipe even better made with goat's milk. It is very creamy and makes a great cheesecake
Reviewer:
Hugh
Rating:
Review:
Would her highness Jolenea, the esteemed "Certified Cheese Maker" and noted misspeller of words, happen to have a recipe of her own for cream cheese? I'd love to know what the elite are eating. If so, Jolenea, please be forthcoming. Humbly yours, Hugh
Reviewer:
tweety sabalabadingdong
Rating:
Review:
i love it
Reviewer:
Jolenea
Rating:
Review:
I am a certified cheese maker and this is the most obsurd, rediculous thing I have ever heard of!
Reviewer:
Emily
Rating:
Review:
I want to make this. Do I need to use cultured buttermilk for this recipe? Any help is appreciated!
Reviewer:
Collen
Rating:
Review:
How about Ricotta Cheese? I want to know how to make Ricotta Cheese.
Reviewer:
James
Rating:
Review:
What exactly is a "certified" cheese maker? How does one become one and who does the certifying?
Reviewer:
balki
Rating:
Review:
Hi Diana, It seems very good to me but i want ask you what is buttermilk and if i don't have it what can i use instead? Thanks a lot.
Reviewer:
Meenah
Rating:
Review:
We make cheese like this all the time, here in Pakistan! It's called "Paneer". I don't exactly know what buttermilk is, but we curdle milk using a very small quantity of lemon juice, and then do exactly what's said in your recipe. What I don't understand is, this sort of cream cheese is solid, not soft, spread like consistency of store-bought cream cheese. How may I use this to make a cheese cake?
Reviewer:
Tina
Rating:
Review:
This is not considered cream cheese. This is called curd cheese because it has the consistency of curd and is not creamy at all. Curd cheese can be done simply by adding a tablespoon of vinegar to the milk and that would separate the whey from the milk.
Reviewer:
Nikhil
Rating:
Review:
Making it this way, (it's called CHAKKA in Hindi(India). Thank you.
Reviewer:
sim
Rating:
Review:
making butter milk for this is just gonna be messy. i prefer squeezing lime juice once it boils and then grinding it for a smooth texture.
Reviewer:
Ella
Rating:
Review:
Must say, I was surprised to find such mean spirited imbeciles on a page like this. What makes people like that anyway?
You come on a page looking for FREE HELP and you throw mud at the teacher. Shame on you guys.
Reviewer:
PurrlGurrl
Rating:
Review:
I've made paneer from scratch and this looks like a paneer recipe, not an American style cream cheese recipe. Nevertheless, if you love Indian food and can't find paneer in your area, use this. I've stopped making paneer at home since our local supermarkets all started routinely having it in stock.
Reviewer:
drape
Rating:
Review:
No offense but this is not how cream cheese is made. The one in the recipe is paneer or ricotta cheese(is taken out a bit early). They form milk solids and not a creamy texture.