Diana's Desserts - www.dianasdesserts.com
See more recipes in
Miniature & Individual Desserts
Mix 'n Match Mini Cheesecakes
in Diana's Recipe Book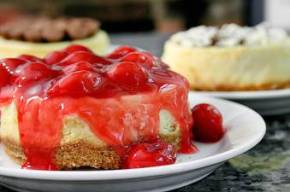 Average Rating:
(total ratings: 25)
[Read reviews]
[Post a review]
Servings: Makes 4 (4 1/2 inch) mini cheesecakes
Comments:
I have received so many emails asking me about how to bake a cheesecake in a mini (4 1/2-inch) springform pan, and at what temperature you bake the 4 1/2-inch cheesecakes and for what amount of time. I finally found a great recipe from Kraft Foods for mini cheesecakes (not the type you make in muffin liners or cups with a vanilla wafer as a crust), but actual small size cheesecakes that are just like their larger versions except made in smaller springform pans. This recipe also gives "Stir In" ideas for making the cheesecakes.

I hope this recipe helps all of you who have been asking for recipes for these delightful little cheesecakes.
Ingredients:

1 cup graham cracker crumbs, (chocolate graham cracker crumbs, or chocolate wafer cookie crumbs may also be used)
3 tbsp. granulated sugar
3 tbsp. butter or margarine, melted
3 packages (8 oz. each) cream cheese, softened
3/4 cup granulated sugar
1 tsp. vanilla extract
3 eggs

Stir-In Ideas
*(See Tips below)

Instructions:
Mix crumbs, the 3 tbsp. sugar and butter; press scant 1/3 cup crumb mixture onto bottom of each of 4 mini (4-1/2-inch) springform pans. Bake at 300°F (150°C) for 7 minutes.

Mix cream cheese, 3/4 cup sugar and vanilla with electric mixer on medium speed until well blended. Add eggs, 1 at a time, mixing on low speed after each addition just until blended. Pour 1/4 of the batter (about 1 cup) into each of 4 bowls. If desired, add one of the Stir-In Ideas to each bowl of batter, mixing Ideas as desired. Pour over crusts. Place pans on cookie sheet.

Bake at 300°F (150°C) for 40 to 45 minutes or until centers are almost set. Run knife or metal spatula around rims of pans to loosen cakes; cool before removing rims of pans. Refrigerate 4 hours or overnight.

Topping Ideas
Fresh fruits, such as strawberry halves, slices of kiwi, whole raspberries, sliced peaches, or chocolate curls can be placed in the middle of cheesecakes for garnish before serving.

Makes 4 (4 1/2-inch) mini cheesecakes.

Tips:
STIR-IN IDEAS
For each 1/4 portion of batter, stir in one of the following:

APPLE PIE MINI CHEESECAKE

Stir in 1/8 tsp. ground cinnamon; pour over crust. Bake as directed. Top cheesecake with combined 1/2 cup warmed apple pie filling and 1/2 tsp. brown sugar.

NEW YORK MINI CHEESECAKE
Stir in 1/4 cup Sour Cream and 1 tbsp. flour.

CHOCOLATE CHUNK MINI CHEESECAKE

Stir in 1/4 cup Milk Chocolate Chunks.


CITRUS MINI CHEESECAKE

Stir in 1 tsp. lemon, orange or lime juice; 1 tsp. flour and 1/4 tsp. grated lemon, orange or lime peel.

S'MORES MINI CHEESECAKE

Stir in 3 tbsp. Milk Chocolate Chunks; pour over crust. Top with 1/4 cup miniature marshmallows and 1 tbsp. broken graham crackers.

COOKIES AND CREAM MINI CHEESECAKE

Stir in 1/4 cup chopped cookies, such as Oreo Chocolate Sandwich Cookies, Nutter Butter Peanut Butter Sandwich Cookies or Chips Ahoy! Chocolate Chip Cookies.

CHOCOLATE ROYALE MINI CHEESECAKE

Stir in 2 ounces semi-sweet baking chocolate, melted.

PEANUT BUTTER MINI CHEESECAKE

Stir in 2 tbsp. peanut butter and 1 tbsp. milk.

MOCHA MINI CHEESECAKE

Mix 1 tsp. instant coffee granules with 2 tsp. hot water. Stir into batter along with 2 ounces semi-sweet baking chocolate, melted.

Source: Kraft Foods
Date: Novwmber 24, 2003
Reviews
Reviewer:
Kate Jackson
Rating:
Review:
Just delicious! I made each one with a different stir-in and cut each cake into quarters so everyone could sample a variety. My friends loved them!
Reviewer:
Olivia Byrne
Rating:
Review:
Thank you so much! I've been searching for a recipe for mini cheesecakes for ages to use in my GCSE work. They turned out brilliantly and got me the A* I wanted!
Reviewer:
Charlotte Jackson
Rating:
Review:
Totally rad man! Loved them
Reviewer:
sandi beenken
Rating:
Review:
I was trying to find a recipe to make heart shaped mini cheesecakes in springform pans, and this recipe was perfect. Thank You!
Reviewer:
robyn williams
Rating:
Review:
I'm very happy now. I needed to make a dessert which included chocolate and fruit for my gcse practicals and this is just the thing. Thank you again.
Reviewer:
Karla Lemon
Rating:
Review:
They are so great when you want to make a sweet snack, but am aware of how many calories are in a huge cheesecake. They're also great sizes to make a lot of them and pass around the neighborhood.
Reviewer:
Deb Cichon
Rating:
Review:
I can't thank you enough for the recipes for these cheescakes. They will make a great addition to my sweet table for Mother's Day.
Reviewer:
Tina Santa Cruz
Rating:
Review:
Thank you Thank you Thank you Thank you so so much! I've had my pans for 3 years and had no idea how to make them!
Reviewer:
joanie burnside
Rating:
Review:
The recipes look wonderful, but I'm trying to find something for an individual springform tube pan...like individual angel food cakes? Are there any recipes out there?
Reviewer:
vanessa
Rating:
Review:
ty so much i just got the pans and didn't know how to make small cheese cake i am very good at big ones but i want to master small ones lol i burned my finger on the print trying to print the recipe lol don't even ask just NEVER STICK YOUR FINGERS IN THE PRINT WHEN IT SAYS PRINTER JAM!!!! i learned my lesson tonight it hurts like a 3rd degree burn lol anyways ty ty so much:)
Reviewer:
Ivori
Rating:
Review:
I was searching EVERYWHERE for a mini-cheesecake recipe, and this was a God-send. Thank You!
Reviewer:
Meghan
Rating:
Review:
I was looking for a recipe for my tiny pans. I made it New York Style, and it definitely tastes delicious. I baked all 4, and two turned out ok. There was some definite cracking, but not too bad. Then the other two blew up really far, cracked, and then fell. I make cheesecakes a lot. I made sure to tap them to get the bubbles out. Why did this happen? It's so frustrating!
Reviewer:
Amanda L. Maus
Rating:
Review:
This is my very first time making cheesecake. I have had these 4" springform pans for years, waiting for a perfect cheesecake recipe. The consistency and taste was excellent! Thank you so much for this great recipe!
Reviewer:
STEPH
Rating:
Review:
Made Oreo cookie cheesecakes. Drizzled chocolate syrup across the top with a dash of whip cream. SO good! Tastes best served when chilled overnight.
Reviewer:
AA
Rating:
Review:
Awesome recipe. I was wondering if you had a good pumpkin mix in for the halloween season?
Reviewer:
Linda Throckmorton
Rating:
Review:
THANK YOU!!! I just bought mini pans and needed to know how long to bake them, etc...this helps so much!!
Reviewer:
Keayra McDowell
Rating:
Review:
The reason that cheesecakes crack and fall is because when you bake cheesecake, you need to fill the sheet pan it is being baked on with water and make sure that you continuously check and refill the water, it will keep enough moisture in the oven to prevent cracking,,,also if you put an empy sheet pan on the rack above the cheesecakes it will help keep the tops from becoming dark and unattractive,,,,good recipe though :)
Reviewer:
Sharon
Rating:
Review:
Standard recipe but excellent in the mini cheesecake springform pans. I didn't have a bake time when I bought the pans so this recipe really helped. Thanks
Reviewer:
Lora
Rating:
Review:
Thanks for the recipe. I only wanted one small cheesecake (perfect size for romantic dinner dessert) so I made 1/3 of the recipe and swirled in boysenberry preserves. Be sure to put the cheesecake pans in a baking dish with water in it. It bakes more evenly, and provides moisture in the oven.
Reviewer:
Pam
Rating:
Review:
These are terrific. Does anyone know if you can freeze them?
Reviewer:
Diane
Rating:
Review:
These cheesecakes are great!! I make all the varieties and then I make one large plain(with no crust). I can't seem to make them fast enough,I make 8 at a time, everyone enjoys them , thanks for the recipe.
Reviewer:
JoeyPak
Rating:
Reviewer:
2thepopcorngirl
Rating:
Review:
I am a professional caterer who does a lot of cheesecake varieties. I just bought 8 of the 4 1/2" pans and knew the cook time would be lower, but I appreciate finding this information on your site to save me the experimenting. So thank you! I don't believe that it is necessary to put your cheesecakes in a water bath, but if you do, remember to put a double thickness of aluminum foil around the bottom and sides of your springform pan to prevent water getting into your cheesecake and making it soggy. Also, cracks are characteristic of a cheesecake, so they are not terrible to have. They usually "close" upon cooling and if you are bothered by them, then use a topping of sorts or try the water bath. For me it's always been a "hit'n miss". Thank you again for your information. ~ Jan~
Reviewer:
lance
Rating:
Review:
i love the taste its a very good taste
Reviewer:
melissa
Rating:
Review:
Cakes turned out fantastic, I haven't tasted them yet but they look great just out of the oven. No cracks. I used vanilla bean paste instead of vanilla extract. My only complaint was that the butter form crusts leaked quite a bit. User error?