Diana's Desserts - www.dianasdesserts.com
See more recipes in
Cakes and Tortes
Chocolate De'Light Cake With Chocolate Ganache
in Diana's Recipe Book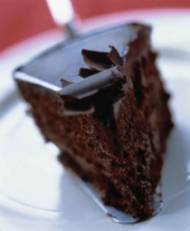 Average Rating:
(total ratings: 7)
[Read reviews]
[Post a review]
Servings: 1 (9-inch) two layer cake, 10-12 servings
Ingredients:

For the Cake:
2 cups cake flour
1 teaspoon baking soda
1 teaspoon baking powder
1/2 teaspoon salt
1 cup light brown sugar
1 cup granulated sugar
1/2 cup water
3 ounces unsweetened chocolate, coarsely chopped
1/2 cup (1 stick/4 ounces/113g) unsalted butter, at room temperature
3 large eggs, separated, at room temperature
3/4 cup milk, at room temperature
1 teaspoon pure vanilla extract

For the Ganache:
8 ounces bittersweet chocolate, coarsely chopped, plus 2 ounces bittersweet chocolate, coarsely grated or shaved, for decorating
2 cups heavy cream
1 teaspoon pure vanilla extract
Instructions:
MAKE AHEAD TIP:
The cake layers may be baked 1 day ahead; wrapped in plastic wrap and stored at room temperature. The prepared cake can be refrigerated for up to 1 day.

1. Preheat oven to 350°F/180°C. Line two 9 x 2-inch round cake pans with wax paper and grease the paper.

2. Make the Chocolate Cake:
In a large bowl, sift together the cake flour, baking soda, baking powder and salt. In a medium saucepan, combine the brown sugar, granulated sugar, coarsely chopped chocolate and the 1/2 cup of water and cook over moderately low heat, stirring, until smooth. Let cool slightly, stirring occasionally.

3. Using an electric mixer, beat the butter and egg yolks until blended. Gradually beat in the chocolate mixture. Beat in the dry ingredients in two batches, alternating with the milk, until smooth. Beat in the vanilla (batter will be rather thin.)

4. In a medium bowl, using clean beaters, beat the egg whites until barely firm. Stir one-third of the whites into the batter. Fold in the remaining whites until incorporated.

5. Scrape the batter into the two prepared pans. Bake the cakes in the bottom third of the oven for 25 to 30 minutes, or until a cake tester inserted in the center comes out clean. Let the cakes cool for 15 minutes, then remove from pans and place right side up on racks to cool completely.

6. Make the Ganache:
In a saucepan, melt half of the chopped chocolate in the heavy cream over moderately low heat, stirring. Remove from the heat and stir in the vanilla and remaining chopped chocolate until smooth. Scrape the ganache into a bowl and refrigerate until chilled, at least 3 hours or overnight.

7. Using an electric mixer, briefly beat the ganache until thick enough to hold its shape. Do not overbeat or the ganache will become grainy; if it does, melt it again over low heat and then beat it once more.

8. Assemble the Cake:
Peel off the paper from the cake layers. Place 1 layer right side up on a cake platter and spread 1 scant cup of the whipped ganache on top. Place the second cake layer upside down on top of the filling. Spread the sides and top of the cake evenly with the remaining whipped ganache.

Decoration (optional):
If desired, reserve about 1/2 cup of the ganache for decorating as follows:

Using a pastry bag fitted with a star tip, pipe simple stars or a scallop trim around the top or the base of the cake. Sprinkle the grated chocolate all over the top of the cake.

To serve, slice gently with a serrated cake knife.

Makes 1 (9-inch) 2 layer cake, 10-12 servings.
Date: February 23, 2002-Recipe revised on May 25, 2006
Reviews
Reviewer:
Maaria
Rating:
Review:
This cake is totally awesome. It so moist and soft and oh so delicious!
Reviewer:
Delia
Rating:
Review:
This is one of the best chocolate cakes I've ever had. I made a few changes like making 1 1/2 X the recipe and using a 13X9 inch pan. I also used a chocolate cream cheese frosting.
Reviewer:
Renee
Rating:
Review:
This is a delightful cake! If your looking for a decadent chocolate cake, look no further.
Reviewer:
Sayyeda
Rating:
Reviewer:
Nikki
Rating:
Review:
While it tasted good, it fell in the middle, even with a heating core.
Reviewer:
Marina
Rating:
Review:
I haven't made this cake yet. I just have a question: If I leave the ganache overnight in the refrigerator, it won't harden? How can I beat it with the mixer afterwards? Thank you very much!
Reviewer:
deepika
Rating:
Review:
Isn't the baking soda too much? In your baking tips section you have mentioned 1/4th tsp. is enough to leaven 1 cup flour, but here you have used 1 tsp. baking powder as well as baking soda. Any specific reason?