Diana's Desserts - www.dianasdesserts.com
See more recipes in
Jams - Jellies - Preserves - Spreads
Concord Grape Jam
in Diana's Recipe Book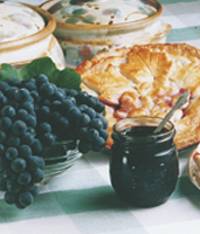 Average Rating:
(total ratings: 7)
[Read reviews]
[Post a review]
Servings: Makes 10 (1-cup) jars
Comments:
You'll find Concord grapes during the fall season, in September and October. Try making this sweet and delicious jam, and serve it on toasted bread or English Muffins.
Ingredients:

6 cups (4 lb.) fully ripe Concord grapes
1 cup water
1 box fruit pectin (such as Sure-Jell)
1/2 tsp. butter or margarine (optional)
7-1/2 cups granulated sugar, measured into separate bowl

Instructions:
Bring boiling-water canner, half full with water, to simmer. Wash jars and screw bands in hot soapy water; rinse with warm water. Pour boiling water over flat lids in saucepan off the heat. Let stand in hot water until ready to use. Drain well before filling.

Remove skins from grapes. Finely chop or grind skins; set aside. Mix grape pulp and water in saucepan. Bring to boil; cover and simmer 5 minutes. Press through sieve to remove seeds. Combine skins and pulp. Measure exactly 6 cups prepared fruit into 6- or 8-quart saucepot.

Stir in pectin. Add butter to reduce foaming. Bring to full rolling boil (a boil that doesn't stop bubbling when stirred) on high heat, stirring constantly. Stir in sugar. Return to full rolling boil and boil exactly 1 minute, stirring constantly. Remove from heat. Skim off any foam with metal spoon.

Ladle immediately into prepared jars, filling to within 1/8 inch of tops. Wipe jar rims and threads. Cover with 2-piece lids. Screw bands tightly. Place jars on elevated rack in canner. Lower rack into canner. (Water must cover jars by 1 to 2 inches. Add boiling water, if necessary.) Cover; bring water to gentle boil. Process 10 minutes. Remove jars and place upright on towel to cool completely. After jars cool, check seals by pressing middle of lid with finger. (If lid springs back, lid is not sealed and refrigeration is necessary.)

Makes 10 (1-cup) jars.
Source: DianasDesserts.com
Date: September 27, 2003
Reviews
Reviewer:
Toni Ebert from OHIO
Rating:
Review:
What an easy recipe! I made 2 batches today and they are perfect! Didn't take 24 hours like other recipes... By the time I picked them, washed them, took off the stems, popped off the skin and cooked, it took only about 2 hours!!! GREAT!!! Much better than the pectin package recipe. Thanks a "bunch"!!!
Reviewer:
Sheila from MA
Rating:
Review:
I did have to use 8 cups of whole grapes to get 6 cups of prepared fruit. Set up well and tastes great Thank You!
Reviewer:
Greg Dixon From KY
Rating:
Review:
Used my homegrown Concord grapes 08/28/09. This is a great way of making jams and jellies. Set up was great. This is by far the best that I have ever used. Thank you Miss Diana. Looking forward to more of your recipes.
Reviewer:
Maureen
Rating:
Review:
I have never made jams or jellies before & this recipe is delicious! Trying peach jam today. You have a good thing going on Diana!! Thanks!
Reviewer:
Sherry from N.C
Rating:
Review:
Just made this with Concord Grapes from my daughter's gorgeous vines and they are perfectly beautiful. Thanks for a great, but easier recipe than others I've read! Getting ready for batch # 2!
Reviewer:
Dorie Courtney
Rating:
Review:
My 12 year old son picked the grapes, and made the entire batch by himself. It was so easy, and the best grape jelly I have ever had!
Reviewer:
Bob Dodson
Rating:
Review:
I have made jams for years, now all of a sudden beginning last year 2010 all the pectin recipes won't set like in the past. I am going to try your recipe today and will inform you if I have the same problem. All the pectin suppliers say it is my concord grapes, which I doubt. If you have any ideas that will help me please email me, I will appreciate it immensely. God Bless, Bob and Joyce Dodson