Diana's Desserts - www.dianasdesserts.com
See more recipes in
Jams - Jellies - Preserves - Spreads
Homemade Grape Jelly
in Diana's Recipe Book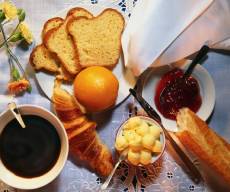 Average Rating:
(total ratings: 13)
[Read reviews]
[Post a review]
Servings: Makes 8 cups
Comments:
When Fall arrives, there's no better way to capture the autumn experience than through a wild-grape outing in beautiful surroundings and the cozy inside work that follows making delicious home-made jelly. Whether you make grape jelly just for personal enjoyment or as gifts, you will re-live the adventures of September when you taste the results!

Ingredients:

3 1/2 pounds of grapes (Concord or Coronation grapes are good choices for dark colored grape jellies, but light colored grapes are delicious also)
1 package of fruit pectin
7 cups of sugar
1/2 teaspoon of margarine
8 canning jars w/lids and rings (or the equivalent of 8 cups)

Instructions:
Boil the jars and lids at least 10 minutes, then let stand in the hot water until you're ready to use them. Pleace the grapes in a saucepan and cover with 1 1/2 cups of water. Bring to a boil, then simmer for 10 minutes. Strain the juice from the seeds into a kettle. To get all the juice, use a spoon and press the grapes against the sides of a strainer. You should have about five cups of juice. Add the pectin and margarine to the juice and stir well. Bring the juice to a rolling boil. While you stir, have an assistant pour in the sugar. Boil one minute, stirring constantly. Remove from heat and skim off foam.

In the meantime, use tongs to remove and drain the jars and lids from the hot water. With a ladle, fill the jars to 1/8 inch from the top. Wipe the rim, place the lids on the jars and screw on the rings. Turn the jars over for five minutes, then turn them upright. Check the seal by pressing down on the center of the lid. It shouldn't spring back.

Cool the jelly completely and rinse the sides of the jar.

TIP:
STORING JARS OF JELLY OR JAMS
Wipe jars of cooled jams and jellies with a clean, damp cloth before storing. Label jars with flavors and dates. Store unopened jars in a cool, dry, dark place.

Use unopened cooked jams and jellies within 1 year of making. Once jar is opened, store in refrigerator and use within 3 weeks.

If a jam or jelly has mold on it, discard contents of entire jar.

Makes 8 cups of grape jelly.

Source: CuisineNet-Diner's Digest
Date: August 22, 2003
Reviews
Reviewer:
Virginia Wright
Rating:
Review:
Grapes were good this year and found this recipe and love it easy to make and taste great will use it again next year God Bless You
Reviewer:
Ernie Martinez
Rating:
Review:
Thanks for an OUTSTANDING recipe. As a Native Angelino (Californian) who now lives in Idaho, this is the first time I made jelly and my family loved it. I plan to use this recipe again next year.
Reviewer:
tracy hilts
Rating:
Review:
this is a great recipe but i would suggest 20% more pectin so the jam is not so runny!!
Reviewer:
Toni Buchanan
Rating:
Review:
I have a problem with the jelly not setting, what can I do, Oh, I made a double batch at the same time. please reply.
Reviewer:
Peggy Hovell
Rating:
Review:
I had some frozen grape juice given to me, so I made your recipe for grape jelly this morning. We tried it at lunch and it is delicious! Thank you so much for sharing your recipe.
Reviewer:
nikki goguen
Rating:
Review:
I made it and everyone loved it. We are all hooked.
Reviewer:
Becky
Rating:
Review:
What is the difference between jam and jelly? Are they the same things?
Reviewer:
loretta
Rating:
Review:
I'm definitely going to try this recipe. My first time making grape jelly.
Reviewer:
karen..millington,mi
Rating:
Review:
A cousin of mine made this recipe last year and is going to do it again..and I am going to try it myself..I loved his jam/jelly. It was very tasteful..THANK'S!
Reviewer:
Kay Stone
Rating:
Review:
The jelly did not set. What can I do?
Reviewer:
juanita
Rating:
Review:
I just tried this tonight..yet I have no idea how it came out, but it seemed like I needed to add more pectin, so I added more..OMG too much I guess..I will find out in the morning what I did and how it came out. I used the liquid pectin. Would that work as well as the powdered kind? This isn't easy on the first try. I added 4 packets of pectin..It didn't seem like it was getting thicker as I kept stirring it. Well it seemed that way to me, so I kept adding pectin.
Reviewer:
dora
Rating:
Review:
I mostly make jam,I was blessed with a good amount of concord grapes this year. This recipe was perfect.My family loves it.This is an easy step by step way to go.P.S. Sure jell is great for this.
Reviewer:
JR
Rating:
Review:
This recipe turned out amazingly! This was my first ever attempt at a homemade jam/jelly and I pretty much thought the whole way through that it wouldn't turn out as I changed several things. First of all, I made half the recipe. I REALLY don't need 8 cups of grape jelly, so I halved it. One package of pectin is roughly about 1/3 cup. Half of 1/3 cup is 2 tablespoons and 2 teaspoons, so I added that but noticed that most people advised to add more pectin, so I added an extra 1 1/2 teaspoons to the mix. So all in all, the recipe I followed was 1.75 lbs of red grapes (didn't have concord, but red grapes worked perfectly!), 2 tablespoons plus 3 1/2 teaspoons pectin, 3 1/2 cups sugar, 1/4 teaspoon butter (prefer over margarine), and instead of using four small jars, I used one large, roughly 4-cup mason jar (filled the entire jar PLUS had a little left over!). And...it set up perfectly! It tasted delicious and had the perfect jelly consistency! I was amazed that my first attempt was so successful, so thank you for the recipe and thanks to the reviewers for advising on the pectin! The only thing I would say is, predictably, it turned out very sweet. But, if you mix in a little bit of lemon juice to the jelly, it balances it out perfectly. Thanks again!