Diana's Desserts - www.dianasdesserts.com
See more recipes in
Brunch Time
Biscuits with Berries and Lemon Curd
in Diana's Recipe Book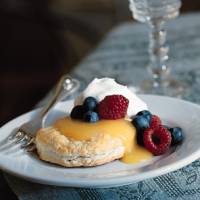 [Be the first to post a review!]
Servings: 8-10
Comments:
A quick and easy dessert to make for brunch on Mother's Day. Use store-bought ready made lemon curd, and if trying to watch calories and fat, use non-dairy whipped topping such as coolwhip instead of the whipped cream. A very attractive and healthy dish for a special occasion.
Ingredients:

For the Biscuits:
2 cups all-purpose flour
1 tsp. salt
1 tbsp. baking powder
1/4 cup shortening
2/3 cup milk
2 tbsp. heavy cream
2 tbsp. granulated sugar

For the Toppings:
1 cup store-bought lemon curd*
1 pint fresh blueberries
1 pint fresh raspberries
1 cup heavy whipping cream*
1 tbsp. granulated sugar
1/2 tsp. vanilla extract

Instructions:
Position a rack in the center of an oven and preheat to 500°F (260°C).

In a large bowl, stir the flour, salt and baking powder together. Add the shortening and using a pastry blender or two knives, cut the shortening into the flour to form coarse crumbs. Using a fork, stir the milk into the flour mixture to gather together in large clumps. Transfer the dough to a lightly floured surface and gather together into a ball. Flatten the dough with floured hands and roll out to a 1/2-inch thick round. Using a 3-inch round cookie cutter, cut the dough into 8 to 10 circles. Transfer the circles to an ungreased cookie sheet. Gather the scraps into a ball, roll out to 1/2-inch thickness and cut out more circles as desired. Brush the biscuits with cream and sprinkle with the sugar. Bake until golden and flaky, 8 to 10 minutes.

Whipping the Cream:
Chill your beaters and mixing bowl in the refrigerator or freezer (for about 10 to 15 minutes) before whipping the cream; this will help in achieving a very nice whipped cream.

While biscuits are baking, make the whipped cream. In a mixing bowl, beat "chilled" heavy whipping cream with the 1 tbsp. sugar and the vanilla extract. Place whipped cream in refrigerator until you are ready to serve the biscuits.

Remove the biscuits from the oven place and cool on a rack for 5 minutes. Serve the biscuits, berries, lemon curd, and whipped cream separately and let you guests compile there own creations.

*Notes: Lemon curd can be purchased at most supermarkets. It is usually on the aisle where the jams and jellies are kept.

Also, frozen non-dairy whipped topping such as Coolwhip (thawed) may be substituted for the whipped cream topping.

Makes 8-10 biscuits.

Date: May 7, 2003