Diana's Desserts - www.dianasdesserts.com
See more recipes in
Springtime
Colors of Spring Sherbert Roll
in Diana's Recipe Book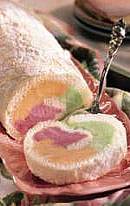 [Be the first to post a review!]
Servings: 12
Comments:
Yes, you can! Roll light, fluffy angel food cake around refreshing raspberry, orange and lime sherbets for a cool and easy make-ahead treat.

Ingredients:

1 package white angel food cake mix
1 1/4 cups cold water
Confectioners' sugar
1 1/2 cups raspberry sherbet, softened
1 1/2 cups orange sherbet, softened
1 1/2 cups lime sherbet, softened


Instructions:
1. Preheat oven to 350ºF (180ºC). Line a 15 x 10 inch jelly roll pan with waxed paper.

2. Beat cake mix and cold water in extra-large glass or metal bowl on low speed 30 seconds; beat on medium speed 1 minute. Spread half of the batter in pan. Spread remaining batter in a 9 x 5 x 3-inch ungreased loaf pan.

3. Bake jelly roll pan 20 to 25 minutes, loaf pan 35 to 45 minutes, or until top springs back when touched lightly in center. Reserve loaf pan for another use. Cool jelly roll pan 10 minutes. Loosen cake from edges of pan; turn upside down onto towel sprinkled with powdered sugar. Carefully remove waxed paper. Trim off stiff edges of cake if necessary. Carefully roll hot cake and towel from narrow end. Cool completely on wire rack, about 1 hour.

4. Unroll cake; remove towel. Beginning at a narrow end, spread raspberry sherbet on one-third of cake, orange sherbet on next third of cake and lime sherbet on remaining cake. Roll up carefully. Place roll, seam side down, on a 18 x 12-inch piece of aluminum foil. Wrap in foil; freeze at least 6 hours until firm. Remove from freezer 15 minutes before serving. Cut roll into 3/4-inch slices. Store wrapped in freezer.

Makes 12 servings.

Date: April 1, 2003