Diana's Desserts - www.dianasdesserts.com
See more recipes in
Cakes and Tortes
Upside-Down Pear Honey Spice Cake
in Diana's Recipe Book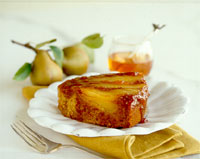 [Be the first to post a review!]
Servings: Makes 12 servings
Ingredients:

9 tablespoons unsalted butter
16 oz. (1-1/3 cups) honey
1 egg, beaten
1 cup milk
1 teaspoon vanilla extract
2-1/4 cup (9 oz.) all-purpose flour
1/2 teaspoon salt
1-1/2 teaspoon baking soda
1-1/2 teaspoon ground ginger
1/2 teaspoon ground cloves
1/4 teaspoon ground cinnamon
4 ripe Bartlett pears
1 cup sugar
3 tablespoons unsalted butter

Instructions:
Preheat oven to 350°F (180°C). Butter a 10 x 2-inch round cake pan (do not use a shallower pan, —the cake will over-flow).

Peel the pears. Cut into quarters lengthwise and remove the cores. Cut each quarter in half lengthwise.

Place the sugar in a large sauté pan and place over medium heat. When the sugar begins to melt, stir with a wooden spoon. Continue to stir and cook until all the lumps of sugar are dissolved and the sugar syrup is a light amber color (this will only take a minute or two). Remove the pan from the heat and add the 3 tablespoons of butter (be careful, the hot caramel will sputter when the butter is added). Stir until the butter is incorporated.

Working quickly, pour the hot caramel into the prepared cake pan—tilting the pan to completely cover the bottom.

Being careful not to burn your fingers on the hot caramel, fan the pears in a circle around the edge of the cake pan; fill in the center with the remaining 6 or 7 pear slices. If the caramel hardens before the pears are in place, set the pan over low heat (or in the oven) to soften the caramel. It is important that the pears are "stuck" in the caramel as it sets up as the batter is quite thin, and the pears will float if they are not "attached" to the caramel. Set the pan aside.

Put the 9 tablespoons of butter and the honey in a saucepan and place over medium heat. Gently warm until the butter is melted. Do not let the honey boil. Whisk to combine; set aside.

In a small bowl, combine the egg, milk and vanilla. Set aside.

Combine the dry ingredients in a large bowl. Pour the honey/butter mixture over the dry ingredients and whisk until smooth. Add the egg mixture and whisk until well combined. Pour the batter over the pears.

Bake the cake until a toothpick inserted in the center comes out clean, about 40-50 minutes. Cool the cake for 10 minutes in the pan. Invert the cake onto a serving platter. Serve slices of cake with a dollop of crème fraiche drizzled with a little honey.

Makes 12 servings.
Date: March 31, 2003