Diana's Desserts - www.dianasdesserts.com
See more recipes in
Fruit Desserts
Creamy Boysenberry Torte
in Diana's Recipe Book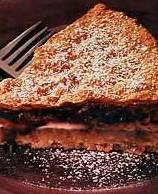 [Be the first to post a review!]
Servings: 10-12
Ingredients:

1/2 cup butter, softened
1 cup granulated sugar, divided
1 3/4 cups flour, divided
2 cups finely chopped or ground roasted unsalted almonds, divided* (see note below)
1 (8oz.) package cream cheese, softened
2/3 cup boysenberry or apricot jam
2 eggs
1/2 teaspoon almond extract
2 tablespoons butter, melted
12 whole almonds
Confectioners' sugar (optional)


Instructions:
Preheat oven to 350°F (180°C). Generously butter 2 inches up the sides of a 9-inch springform pan. Coat buttered sides with 1 tablespoon ground almonds.

In a medium bowl or food processor, cream 1/2 cup butter with 1/2 cup of the sugar until light and fluffy. Add 1 cup of the flour and 1 1/2 cups of the chopped almonds and mix thoroughly. Pat mixture evenly over bottom of prepared pan. Spread cream cheese over nut crust to within 1/2-inch from edge. Spread jam over cream cheese.

In a large bowl of an electric mixer on medium-high speed, beat eggs, remaining 1/2 cup sugar and almond extract until very thick and pale lemon color, 4-5 minutes. Mixture should triple in volume and form a ribbon that holds shape for a few seconds when beaters are lifted. Sprinkle remaining 3/4 cup flour and remaining 1/2 cup almonds one third at a time over batter while gently folding with a rubber spatula just until flour is incorporated.

Stir about 1 cup of the batter into the melted butter. Gently fold butter mixture into batter just until blended. Pour over jam layer and spread to edge of pan. Arrange whole almonds decoratively on top. Bake for 55 to 60 minutes or until golden brown and a pick inserted 1/2-inch deep near the center comes out clean. Cool completely. Remove springform. Dust top with confectioners' sugar, if desired.

Makes: 10-12 servings

Note: To roast almonds, place whole raw almonds on a dry baking sheet. Bake at 350°F (180°C) for 10 to 12 minutes, stirring once or twice. Cool and chop with a knife or pulse in a food processor until finely chopped.

Date: March 13, 2003