Diana's Desserts - www.dianasdesserts.com
See more recipes in
Cakes and Tortes
Light Chocolate Zucchini Cake
in Diana's Recipe Book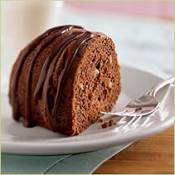 [Be the first to post a review!]
Servings: 16
Ingredients:

For the Cake:
Cooking spray
1 tablespoon all-purpose flour
3/4 cup granulated sugar
1/2 cup packed brown sugar
1/2 cup (4 ounces) block-style fat-free cream cheese, softened
1/3 cup vegetable oil
2 large eggs
2 large egg whites
1 teaspoon vanilla extract
2-1/2 cups all-purpose flour
1/2 cup unsweetened cocoa
2 teaspoons baking powder
1/2 teaspoon baking soda
1/2 teaspoon salt
1/2 teaspoon ground cinnamon
3/4 cup fat-free buttermilk
2 cups shredded zucchini
2/3 cup semisweet chocolate chips
1/4 cup chopped walnuts

For the Glaze:
3/4 cup confectioners' sugar
3 tablespoons unsweetened cocoa
8 teaspoons fat-free milk
2 tablespoons semisweet chocolate chips
1 teaspoon instant coffee granules
1/2 teaspoon vanilla extract


Instructions:
1. Preheat oven to 350 degrees F (175 degrees C).

2. To prepare cake, coat a 12-cup Bundt pan with cooking spray; dust pan with 1 tablespoon flour.

3. Place sugars, cream cheese, and vegetable oil in a large bowl, and beat with a mixer at medium speed until well blended (about 5 minutes). Add eggs and egg whites, 1 at a time, beating well after each addition. Beat in 1 teaspoon vanilla extract.

4. Lightly spoon 2-1/2 cups flour into dry measuring cups, and level with a knife. Combine 2-1/2 cups flour and next 5 ingredients (2-1/2 cups flour through cinnamon) in a medium bowl, stirring well with a whisk.

5. Add flour mixture and buttermilk alternately to sugar mixture, beginning and ending with flour mixture. Stir in zucchini, 2/3 cup chocolate chips, and nuts. Pour batter into prepared pan. Bake at 350 degrees for 1 hour or until a wooden pick inserted in cake comes out clean. Cool in pan 10 minutes on a wire rack; remove from pan. Cool completely on wire rack.

6. To prepare glaze, combine 3/4 cup powdered sugar and 3 tablespoons cocoa in a small bowl; stir with a whisk. Combine milk, 2 tablespoons chocolate chips, coffee, and 1/2 teaspoon vanilla extract in a 1-cup glass measure. Microwave at medium 45 seconds or until chocolate melts, stirring after 20 seconds. Combine powdered sugar mixture with chocolate mixture, stirring with a whisk. Drizzle glaze over cake.

Tip: When you're testing the cake for doneness, insert the wooden pick in several different places. You may hit a melted chocolate chip, which might make you think the cake isn't done.

Makes 16 servings.

Date: March 1, 2003